---
Born on August 17, 1962 in Cleveland, Gilby Clarke got his first taste of the L.A. scene at a young age. He moved from Cleveland to L.A. in his early teens. "I was supposed to go to high school, but that never really happened--I discovered the guitar," Gilby stated in Guitar World.

During the mid-eighties, Gilby was a stable in L.A. and Hollywood becoming a well-known bandleader. In 1984, Gilby first met guitarist Izzy Stradlin' shortly after Izzy moved to Hollywood. The two seemed to hit it off since they were both huge fans of Keith Richards and Johnny Thunders, which were basically scarce around that area. "We were part of a small group of Keith Richards fanatics who were somewhat alienated from L.A.'s heavy metal scene." "Back then, there were only five guys in town who wanted to be Johnny Thunders; it just happened to be me, Izzy, and a couple other guys." At that time, Gilby was the frontman for L.A. pop band Candy, which had released a record under the Mercury label titled "Whatever Happened To Fun?" (which is being re-issued by Mercury.) Candy also had spots opening for Rick Springfield during a big arena tour. Through all this, Gilby and Izzy lost touch.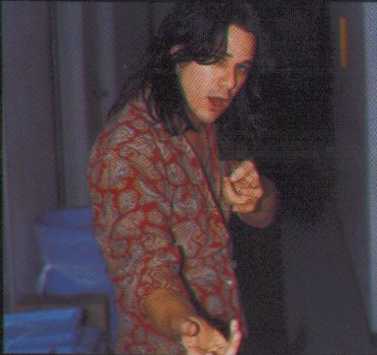 After Gilby finished his tenure with Candy, he joined up with Kill For Thrills as their frontman. Together, they released an EP, "Commercial Suicide" and "Dynamite In Nightmareland" before disbanding.
Then came Gilby's biggest career move. In the sumer of 1991, Gilby replaced friend Izzy Stradlin' in one of the world's most notorious bands, Guns N' Roses. Gilby was the one guitarist who GN'R had come down and audition in the studio. Gilby was the one who just seemed to fit right in. For his audition, Slash called him up and told him to learn three songs. "The funny thing is, I didn't even learn the three songs. I just listened to a few things, got the keys in my head, and winged it the next day," Gilby told Guitar World. Even still, Gilby was in Guns N' Roses. Two weeks after auditioning, Gilby played his first gig with GN'R. Gilby had to learn about 50 songs in two weeks. . .then play them in front of millions of people. Gilby toured with GN'R for nearly two years. When the tour was over, Gilby jumped in the studio with GN'R to record his only album with the band, the punk cover album, "The Spaghetti Incident?," released in 1993. After that, Gilby stayed in the studio to work on his first solo album.
---